— guest post by Bonnie Mak, University of Illinois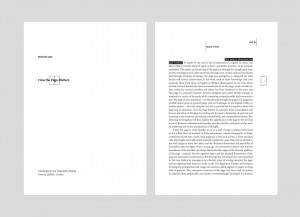 How the Page Matters explores the different embodiments of a fifteenth-century text as it is translated into different languages and across manuscript, early print, and digital media. By investigating the ways in which the page of the "same" text was continually reconfigured for different audiences through time and technologies, I considered the ways in which materiality and meaning-making are always dynamically entangled. Furthermore, I experimented with how the physical instantiation of the book publication itself, including its cover, the layout, and typeface, could be used to embody my argument. Was there a way to argue using both words and matter?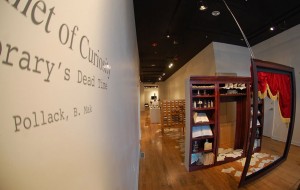 The experiment with the book project led me to think more about the look of research, and to imagine alternative embodiments of an academic argument. To this end, I developed "A Cabinet of Curiosity: the Library's Dead Time" with Julia Pollack, an exhibition that sought to embody the practices of the librarian. Each of the six sculptures in the exhibition was hand-crafted by the "librarian" to make evident her own role in the collection, classification, and curation of knowledge. The purpose of the show was to expose the manifold and complicated ways in which information is produced, processed, and circulated — not only in the book and in the library, but also elsewhere.
More images of the Cabinet are available here, and an interview with the artists is featured on the Library as Incubator Project blog.